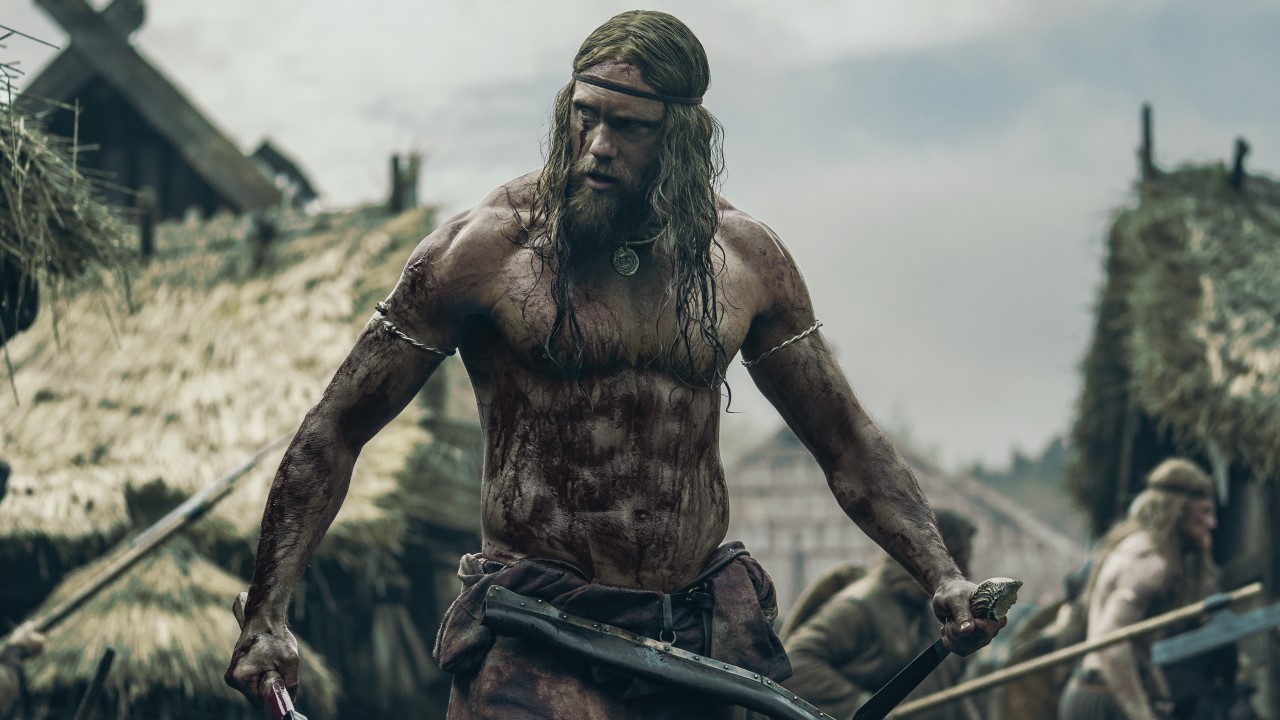 Director Robert Eggers' third feature film The Northman (which follows The Witch and The Lighthouse) is by far his biggest yet. With its $90 million budget and A-list cast — led by Alexander Skarsgård — the film is a combination of historical epic and revenge thriller that left its star "truly a wreck." All of the above is why this one is so highly anticipated. Critics had the opportunity to screen The Northman, and they had plenty of strong opinions about the movie, and Skarsgård in particular, to help us decide if we'll be heading to the theaters when this movie premieres April 22. 
Critics' first reactions were overwhelmingly positive for the film that stars Nicole Kidman, Anya Taylor-Joy, Ethan Hawke, Claes Bang, Björk, and Willem Dafoe alongside Alexander Skarsgård's warrior prince. They said The Northman is Robert Eggers' most accessible film yet and the critics were captivated by the tale of revenge. Let's dive a little deeper and see what their reviews say, starting with CinemaBlend's review. Eric Eisenberg rates The Northman 4.5 stars of ferocious excellence. He says while the cast is full of surprises and treats, this is Alexander Skarsgård's show, and he is impressive:
David Rooney of THR says the film is respectable if for no other reason than it is a big, noisy, brawling spectacle grounded not in comic-book superhero lore but rather in culturally specific history. This critic applauds the cast and says Alexander Skarsgård has never been fiercer or more physically imposing:
Germain Lussier of Gizmodo says The Northman experiences a few bumps in the road, as it starts off as a gritty, beautifully choreographed action and then turns into a smaller psychological thriller. However, the film is never boring and is beautiful throughout. It works because we believe the characters, and he says the cast has some standouts, including the leads and a show-stealing Nicole Kidman: 
Alonso Duralde of The Wrap says Robert Eggers has made a "rousingly rough, extreme action saga" that's accessible without losing his arthouse credibility. The director knows how to get his actors to a very specific wavelength, and Alexander Skarsgård takes his performance right to the edge:
Not all of the critics were won over by the leading performance, however. Peter Debruge of Variety says despite his impressive physicality, Alexander Skarsgård lacks the charisma needed to carry such a big-budget film. Overall this critic finds the story too simple and ultimately rather dull:
If this sounds like a movie you can't miss, you can catch it in theaters starting on Friday, April 22. In the meantime, take a look at our 2022 Movie Release Schedule to see what other films are coming soon.
Source link