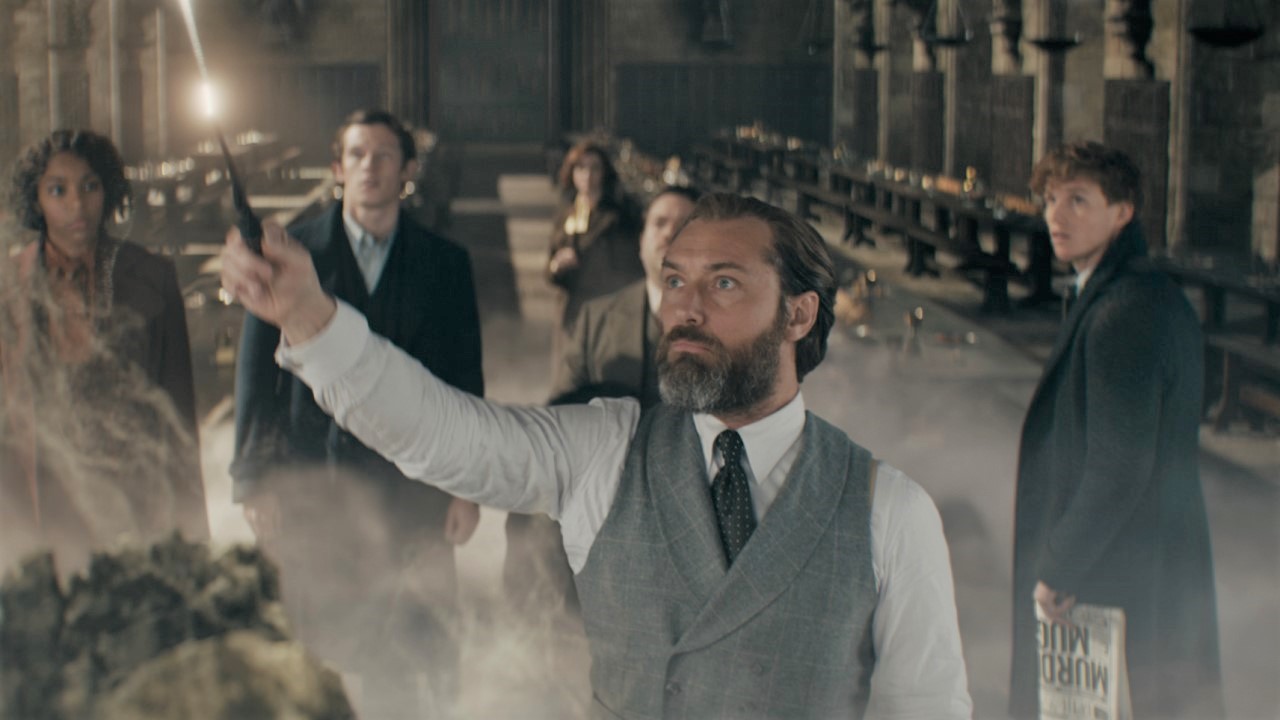 The saga of the Wizarding World continues! Fantastic Beasts: The Secrets of Dumbledore — the third installment of the Harry Potter prequel series — is set to premiere in theaters on April 15. The film stars Jude Law as Albus Dumbledore, Eddie Redmayne as Newt Scamander, Ezra Miller as Credence Barebone, and Mads Mikkelsen as Gellert Grindelwald. Critics have had the opportunity to screen the franchise's newest film, and their reviews are in.
Taking place several years after the events of Fantastic Beasts: The Crimes of Grindelwald, Fantastic Beasts 3 will show Albus Dumbledore tasking Newt Scamander with a mission that will lead him and his allies into the heart of dark wizard Gellert Grindelwald's army. So, what did critics think about Fantastic Beasts: The Secrets of Dumbledore? Will our questions about the great wizard be answered? Let's take a look, starting with the CinemaBlend review. Our own Mike Reyes rates the film 3.5 stars out of 5, calling it the "best prequel yet" and saying this might be the one that gets the Wizarding World back on track:
Siddhant Adlakha of IGN, however, has the opposite takeaway, rating The Secrets of Dumbledore a "Bad" 4 out of 10 and calling the third movie an un-fantastical Potter prequel with uninteresting secrets. Though two more Fantastic Beast movies are planned, this review argues the series should mercifully be ended here:
Lovia Gyarkye of THR falls somewhere in the middle, saying that while this movie is more focused and more whimsical than its predecessors, it's no less disappointing. Behind-the-scenes drama involving Ezra Miller, as well as J.K. Rowling's views, make it hard for this critic to remain enchanted with the series:
Stephanie Bunbury of Deadline says there are a number of competing protagonists, some potentially meaty themes and, yes, fantastic beasts, but of everything that's happening in the Harry Potter prequel, not much of it makes sense:
Peter Debruge of Variety commends the way J.K. Rowling envisions her story over multiple movies, planting things that will almost certainly pay off in a movie yet to come. However, the plots continue to be overly complicated, serving only to confuse audiences, he says:
Kate Erbland of IndieWire grades Fantastic Beasts 3 a C, saying the film struggles to balance the magical whimsy with its adult themes. This results in feelings of discomfort even during the most magical moments:
The critics may not agree, but we know fans of the franchise are excited to check the newest movie out, and the wait is almost over. Fantastic Beasts: The Secrets of Dumbledore will arrive in theaters Friday, April 15. Be sure to check out our 2022 Movie Release Schedule to see what other films are coming soon.
Source link